Whale & Dolphin Watching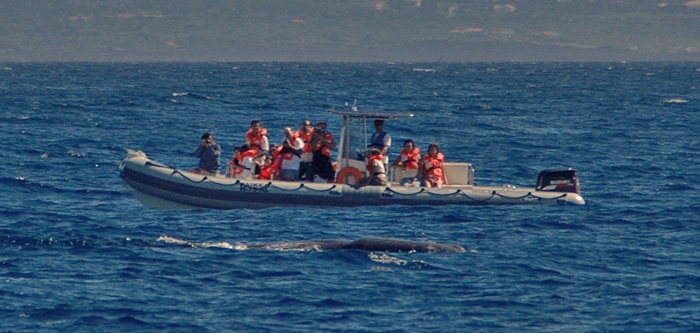 Daily Trips
How do the trips work?
Up-close encounters with whales and dolphins, respecting their habits and freedom is how we describe our activity. We only work with small groups to keep the experience personal. Each whale watching trip lasts around 3h30 and before embarking a detailed briefing informs the clients about the species and sea conditions. As we work with lookouts onshore the cetacean sightings are very high. In 2008, we saw cetaceans in all our trips and whales in more than 90%. Operated by 2 marine biologists, Dive Azores is committed to providing a quality and responsible whale and dolphin watching experience, being the welfare of the animals our first priority. Education and conservation are main goals of our tours. We aim to raise awareness and understanding of cetaceans and other wildlife, threats they face and how to conserve and protect them. Guests interested in research are invited to take part by helping us collecting field data, pictures/videos of the sighted species and litter from the sea. Plastics and drift fishing nets are especially dangerous for marine species through accidental swallowing or entanglement. These local initiatives can make a difference and contribute to protect marine wildlife for future generations! Get involved! On board PAIKEA, a friendly and professional crew will answer all your questions and provide wildlife information. Identification guides are available for consultation. A hydrophone (underwater microphone) is used to add a special dimension to the experience and to help our crew determine where a whale or whales may be. A code of conduct for a responsible observation is followed by the crew not to disturb the cetaceans, and the boat is manoeuvred carefully, slowly and not too close, leaving before the animals show signs of distress. Patience is a golden rule for a successful whale watching experience. Waterproof clothes and life jackets are provided before the trip.
Our Boat – PAIKEA, The Whale Rider
PAIKEA is a 9,60m rigid inflatable boat powered by 2x175 Hp Suzuki 4-stroke outboards with quiet operating levels and equipped according to the EU safety standards. Zodiac style boats combine speed with extraordinary stability, being the ideal choice for the sea conditions in the Azores. For those who normally suffer from seasickness it's the ideal choice. By law each whale watching boat can carry a maximum of 12 passengers. The reduced number of passengers aboard and the use of a small boat keep the trips and the encounters with the animals personal.
What happens if the trip is cancelled due to bad weather?
Whale watching tours are always dependent on sea conditions. If the trip is cancelled due to rough sea, bad weather or absence of animals we can book you for another day or you can be refunded.
What to bring?
Sunscreen lotion (SPF 30 or higher is recommended), a hat (for warmth and/or sun protection), sunglasses with polarizing lenses (they reduce the sun's glare and are excellent for seeing through the water) and a camera with zoom lens (preferably around 75-300mm or similar zoom). Warm clothing, waterproof jacket/pants and rubber-soled shoes (flip-flops are a good option in summer) will keep you comfortable during the trips. Seasickness tablets in case you suffer from seasickness. A waterproof bag is advisable for protecting your camera and other personal objects from the salt and spray.