Scuba Diving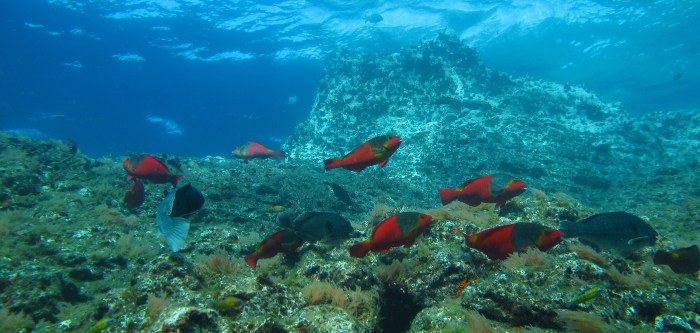 Diving off Faial
Unique Underwater Scenarios and Abundant Marine Life
Dive Azores offers a great diversity of divesites and some of the best diving in the archipelago. With an outstanding location in the heart of the Triangle formed by Faial, Pico and S. Jorge islands, it is the perfect retreat for divers who seek unspoilt dive sites, away from the typical crowded diving destinations.
Steep walls, gentle slopes, volcanic arches, seamounts, caves and islets make the underwater scenarios diverse and unique. Isolated in the middle of the Atlantic Ocean, the great thrill of diving off Faial is that you can also be surprised with an unexpected encounter!
The marine life in the Azores is diverse and abundant with some colourful subtropical fish species. Pelagic fishes like tuna, barracudas, jacks, sardines and mackerels are best spotted from July to September, when the warm Gulf Stream rises the sea temperature to about 20-23ºC. Manta rays are spotted every year in seamounts during July, August and September. Morays, stingrays, dusky groupers, comb groupers, wrasses, parrot fishes, trigger fishes, breams and damselfishes are common in most dives. Caves and rocky crevices are a good place to find nudibranches and their spawns, sponges, molluscs, lobsters, shrimps and other interesting crustaceans.
The best season for scuba diving is from June to September, when the weather gets drier and the water temperature increases. Most of the times you can expect clear water with 20-25m visibility. We advise a 7mm wetsuit or semi-dry suit. For August and September 5mm is enough for some divers.
Please keep in mind that if you are diving every day a warmer suit is recommended.
April, May and June are good months to observe macro subjects. We have more that 7 species of nudibranchs, crustaceans and octopus more abundant at this time. But in these months be prepared for colder water and visibilities between 12 to 16 meters. For April and May we recommend a semi-dry or a dry suit if available.
Average water temperature in celcius:
April, 15
May, 16
June, 17 / 19
July, 20 / 21
August, 22 / 23
September, 21 / 22
October, 20
Because we believe we can help preserve our dive sites, we undertake some research throughout our dives on the species observed and habitat alteration (know how to get involved) and we strictly adhere to our Code for Responsible Diving, promoting eco-friendly diving practices.