Scuba Diving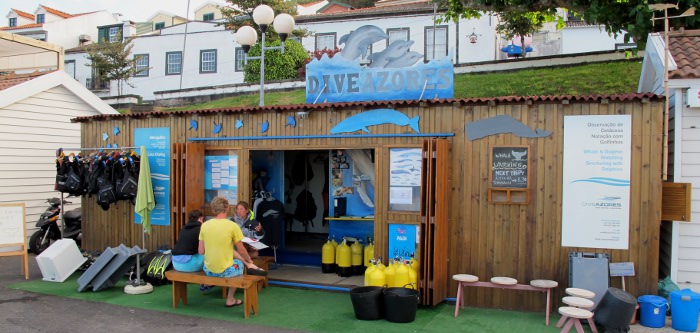 Dive Center
A Dedicated Dive Center in Faial
Dive Azores prides itself on being a small, but professional dive center with high safety standards, personal service and a team spirit. We are firm believers in small diving groups and eco-friendly diving practices. All our dives are by boat and their choice is made according to weather conditions and divers' experience and preferences.
- Friendly staff
- High Safety Standard: your safety and comfort are our first concern
- Small groups (maximum of 5 divers/divemaster)
- Pre-dive briefings on responsible dive practices by our marine biologists
- We try to match divers with the same level of experience on a group
- 9,60m fully equipped rigid inflatable boat
- 5,0m fibreglass boat for courses
- Oxygen and First Aid Kit on board
- "Clean" Air from a Coltri compressor
- Nitrox fills up to 36%
- Fish ID books, diving magazines and DVDs
- Safe storage for personal equipment
- First class annually serviced equipment for rental
- Dive Azores is a PADI Dive Resort and DAN Sponsor
Equipment
Our dive center is equipped with high quality annually serviced equipment for rental: Cressi BCDs and masks, Aqualung regulators, one-piece 5mm and 6,5mm neoprene wetsuits with woods, 3mm neoprene booties with adjustable fins and 12l steel tanks with both DIN and Yoke fittings. 3mm neoprene vests are available for the most chilled. Dive computers, dive torches and safety sausages are also available for rental.
We sell some diving accessories and there is a good dive shop with quality equipment next door.
Our Boats
PAIKEA is a comfortable 9,60m RIB boat powered by 2x175 Hp Suzuki 4-stroke outboards that is ideal for our diving conditions. MERO (dusky grouper in Portuguese) is a 5m fibreglass boat powered by a 50Hp Suzuki 4-stroke outboard.
They are both equipped for divers comfort and in accordance with the EU safety standards with VHF Radio, Depth Sounder, Emergency Oxygen and First Aid Kits, and are operated by licensed experience crew.
Diving with Nitrox
Dive Azores is the first and only dive center in Faial that offers divers the comfort and safety of Nitrox up to 36%. PADI Enriched Air Nitrox certification courses are also available.
Rinsing facilities & equipment storage
After each diving trip, your gear and camera equipment can be rinsed directly in the marina in our rinsing boxes – the gear is conveniently washed with pressure to avoid water from entering the first stage. Hangers are provided for wet suits and BCDs, and each guest is provided with a net bag for storing the smaller items. We kindly ask our divers to store the empty travel diving bags at their hotel during their stay. Dive Azores works with a team spirit.
Dive Azores and Project AWARE
Dive Azores actively supports Project AWARE, a non-profit organisation dedicated to the conservation of marine life and underwater environments worldwide that is tightly linked to PADI. Dive Azores is a Project AWARE Environmental Operator and Official Partner and subscribes to the Project AWARE ECO-Operator guidelines.
Dive Azores is engaged in various conservation and educational initiatives, such as underwater cleanups and marine debris prevention, marine protection efforts, environmental lectures, research and data collection. We also offer a variety of AWARE Specialty programs to divers and snorkelers, as well as the possibility for them to get involved by joining our projects (know more about our projects and how to get involved).
Every year Dive Azores raises funds for Project AWARE by taking action, together with thousands of divers and non-divers all around the world, in the Dive for Earth Day and International Cleanup Day actions.
For more information on Project AWARE: http://www.projectaware.org/